Social Media: One Small Reason Beto O'Rourke Beat Silvestre Reyes - Blog
Social Media: One Small Reason Beto O'Rourke Beat Silvestre Reyes
May 30, 2012
Anyone who is friends with me on Facebook or follows me on Twitter knows that I've been supporting Beto O'Rourke since the day he announced his congressional campaign. I've known Beto for years and my first job out of college was with his web development company. I will always be appreciative of the opportunity he gave me to work for him, and I wouldn't be where I am today without that experience.
As the owner of my own web development company, I am always online. If I'm not on my laptop reading about programming, technology, or graphic design, I'm on my iPhone going through my Facebook and Twitter feeds. During the congressional race, I was interested to see how each candidate would use social media to promote their platform and connect with people throughout El Paso. Social media is ridiculously important to get right for any candidate running for office, especially for someone like Beto who was running against a 16-year incumbent with the ability to raise a lot of money. Social media is free and levels the playing field.
Beto's campaign knocked their social media strategy out of the park. The Reyes campaign struck out. And I'm not just saying that because I'm a Beto supporter. Let's take a look at some numbers: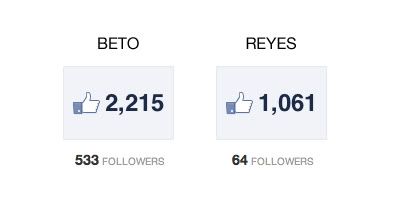 Beto's campaign page on Facebook had more than twice the number of fans as the Reyes campaign page, and Beto's campaign had more than EIGHT times the number of followers as the Reyes campaign on Twitter. That's a huge difference, especially with the ability to easily share a campaign post on Facebook with your own friends and the ability to retweet a campaign tweet to your own followers. That means Beto's reach across Facebook and Twitter was far greater than the Reyes campaign, because more people were seeing shares and retweets of content created by Beto's campaign.
One thing that stood out to me during election day was the social media usage by each candidate. I went through each candidate's Facebook page and Twitter feed and counted the number of posts/tweets/retweets created during election day until the polls closed at 7:00 p.m.:
Wow. I recounted just to be sure, but those numbers are correct. Beto's campaign did a great job posting and tweeting pictures of Beto and his supporters along with other relevant election information throughout the day. The Reyes campaign posted once in the morning (a picture of a billboard that looked like it was in the middle of nowhere), and posted twice in the afternoon right before the polls closed. One of the afternoon posts was a link to the ad that ran during the Super Bowl, which aired almost four months ago. The post seemed extremely dated.
An hour after the polls closed, the Reyes campaign posted a photo album on Facebook with photos taken of Reyes and his supporters during election day. I'm still scratching my head trying to figure out why these photos were posted an hour AFTER the polls closed. The campaign should have been uploading these photos throughout the day to Facebook and Twitter using a mobile phone. This would have shown Reyes supporters that he was out in the community making one last push for votes, and could have enticed a few more people to vote for Reyes.
The sheer volume of social media updates by Beto's campaign compared to the Reyes campaign during election day made the Reyes campaign seem irrelevant and out of touch. Social media was one small reason Beto was able to win the primary.
To say that I am excited that Beto won is an absolute understatement. Congrats to Beto and his entire campaign staff for running a great campaign online and offline.